Life's a beach
It's back to the swinging sixties for this season's sizzling collection of swimwear. Let's make a splash . . .
The itsy-bitsy-teeny-weeny-yellow-polka-dot bikini brigade will be disappointed by
this summer's
return to
sixties
elegance and sophistication à la
Jackie O
. This year full briefs are back in fashion - good news for those of us 'blessed' with real hips but, alas and alack, unforgiving if you've got a few extra pounds piled around your middle - and, after a long winter hidden under comfy layers, who hasn't? So it's flat tummies all round matched with triangle bras (although bandeau styles are beginning to make a comeback) for a look that's
more
intriguing
than
revealing
. This season's beachwear exudes
money
and
luxury
and the look isn't complete without the right accessories. Must-haves to keep the heat up this summer are
sixties-style headscarves
, bug-eyed
sunglasses
,
sarongs
, gossamer-light
shawls
and roomy
shoulder bags
. Make-up and jewellery-junkies rejoice as both are essential this year to look good under the sun. It's a case of
'who dares swims'
at
Argentovivo
, where models stride across the sand in brightly coloured bikinis, purple varnish on their nails and jewel-encrusted bracelets on their wrists (it doesn't matter if the jewellery is fake or imitation - the key word for this look is
impact
).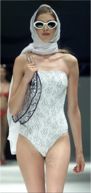 The
all-in-one swimsuit
is back in fashion again after years of neglect, in both classic styles from sport labels such as
Superga
, and more elegant cuts from the fashion labels.
Colour wise
there's something for everyone: from flowery patterns to ethnic designs and zebra prints not forgetting the classical block colour in black, navy, light blue, white and beige.
There's also a wide choice of
materials
available: cotton, lycra, mock-croc, leather-look as well as high-tech fabrics designed to keep you looking cool when the temperatures go up.
The same applies to
beach boys -
the choice is endless
: with a wide variety of colours and prints as well as the more traditional black and white or navy and white stripes.
"
Surf-boy shorts or skimpy trunks?
" There's no rules this season - just go with the flow and let your real self show.