Messina, melting-pot of Italy
Visit a Messina steeped in tradition with echoes of its Arab past.
Here we are in
Messina
on the trail of the
Girovela
, the round-Italy sailing race. No advice this time on where to eat, sleep, drink etc, but rather lots of pointers on what you can do and see in this magnificent Mediterranean port.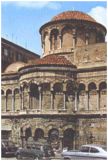 First stop is a jewel of a church,
Annunziata dei Catalani
. Built in the late 12
th
century and influenced by Arab-Norman architecture. The church sprouts up out of the ground like a mushroom, which is hardly surprising given that the level of the land has greatly increased since the church was erected in the 1100s. In the past the church fell into the hands of an association of Catalan merchants, from whom it takes its somewhat unusual name.

Let's skip the well-documented Sicilian tradition of colourfully
painted carts
, concentrating instead on the lesser-known tradition of
Mata and Grifone
, two huge statues often seen in local festivals and processions.
Mata and Grifone
are two figures, one a beautiful young lady, the other a Saracen soldier, on horseback. There are many versions of the legend of Mata and Grifone, some say they were the true founders of Messina, others that they were Muslim prisoners taken by the mercenary soldier Ruggero D'Altavilla in 1086. Our favourite, and the most popular one, brings us back in time to 964, when Messina was the last outpost in Sicily to resist Arab occupation. During the siege of Messina the Arab general,
Hassas Ibn-Hammar
, set his eyes upon Mata, the beautiful daughter of a local merchant. He fell hopelessly in love and forced her to marry him. The Saracen did all he could to captivate Mata but nothing would melt her heart until he converted to Christianity. He changed his name to Grifo, and soon became known as Grifone (Big Grifo) for obvious reasons. The two, Mata and Grifone, needless to say, lived happily ever after!
1. MESSINA's PORTS

Messina Port News
. Bi-lingual information on the port of Messina.
Information at a glance on Messina's two ports:
Messina porto
and
Marina del Nettuno
. Italian only but easy-to-understand (even for the linguistically challenged).
2. SAILING

Federvela.it

Learn how to sail in one of the
Italian Sailing Federation's
schools in Messina and Sicily. Courses for beginners and experts.
3. INFORMATION
Messina
Lots of useful information about Messina
Weather Forecast
Whatever the weather .. . in Messina and area.
The Strait of Messina
All you need to know about the much-talked about bridge which is to span the Strait of Messina, connecting Sicily with mainland Italy.
A
web cam on the Strait of Messina
Tourism

Hotels
Restaurants

Pizzerias

Wine
4. FUN FACT

Like many Italian towns and cities, Messina has its own Madonna,
La Madonna della Lettera
(Our Lady of the Letter), the patron saint of the city. Messina's Madonna stands six metres high greeting visitors as they arrive in the beautiful curved harbour with the inscription: "
Vos et ipsam civitatem benedicimus
" The statue was unveiled on August 2
nd
1934 and, thanks to Gugliemo Marconi, is fitted with a special device which allows it to be illuminated from the Vatican in Rome.