Liguria - a land of legend and legacy
We journey through a mysterious land of disappearing Madonnas, self-appointed Kings and ancient languages.
Even Italians forget about Imperia, assuming its number plate -IM - refers to the older and more commercially established city of Imola. Indeed in Italian terms Imperia is but a baby dating back to 1923 when Mussolini bridged the Impero river, amalgamating 11 local councils in the process. Oneglia is one of the larger council areas and still has the feel of a separate town. Foodies should stop off there to visit the Olive Oil Museum, on the grounds of the Carli Brother's renowned oil company in via Garessio. The museum houses a vast collection of oil-related paraphernalia, tracing the flavour and success of Liguria's finest export through history. The charming fishing village of Cervo, just west of Imperia, is well worth a visit for its wonderful Baroque church, one of the finest examples of Baroque architecture west of Genoa.. The first thing you notice as you approach the church, known as the Chiesa dei Corallini, from the motorway is an imposing statue of Our Lady, which disappears from view once you reach the place of worship. Strange, to say the least.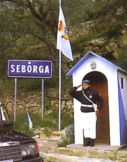 And things get even stranger as we head inland from the picturesque coastal town of Bordighera. Nestling high in the mountains is the tiny Principality (yes, you read correctly) of Seborga. Thanks to a loophole in legislation going back to Unification, Seborga (14 square kilometres with 362 inhabitants) was never officially made part of Italy You'd be forgiven for thinking you'd stumbled on the set of a Marx Brothers movie as you pass the guards patrolling the border. Get some local money - 1 luigino buys you around 6 US dollars - to spend in Seborga's two bars and post office and if you're lucky you may even bump into the Principality's ruler, Giorgio Pistone, Giorgio 1 to his subjects.

Leaving the fairytale world of Seborga behind the mountain looms ominously as you weave your way up the 2,520 metres to the top, leaving Imperia for the province of Cuneo, in southern Piedmont. Join the pilgrims, and enjoy a well-earned rest, at the Sanctuary of San Magno 8 km from the pass. The Sanctuary looks down on the Grana valley, the cultural centre of the Franco-Provençal (Occitan) language area. The area was renowned in the past for sheep farming and as a stronghold of the Resistance movement but nowadays silence marks a place whose main problem is rural depopulation.

The area's most famous resident is its highly acclaimed Castelmagno cheese, described as "the best cheese he had ever tasted" by Italy's galloping gourmet, Luigi Veronelli. Castlemagno is a blue-veined cheese that has been around since the 1100s and was reputedly the cause of a 30-year war between neighbouring communes Cuneo and Saluzzo in the 13th century.